Although the epidemic is not over, spring will never be late! Recently, with the temperature rising, near the north gate of the National Grand Theatre near Chang'an Street, purple yulan magnolia blooms one after another, attracting many surrounding residents to enjoy the flowers.

In the warm sunshine, some yulan magnolia are about to blossom; some fully bloom, fresh and pleasant, very beautiful. Beijing's sky is also very blue; the air is fresh, like a beautiful painting. Spring, she is coming!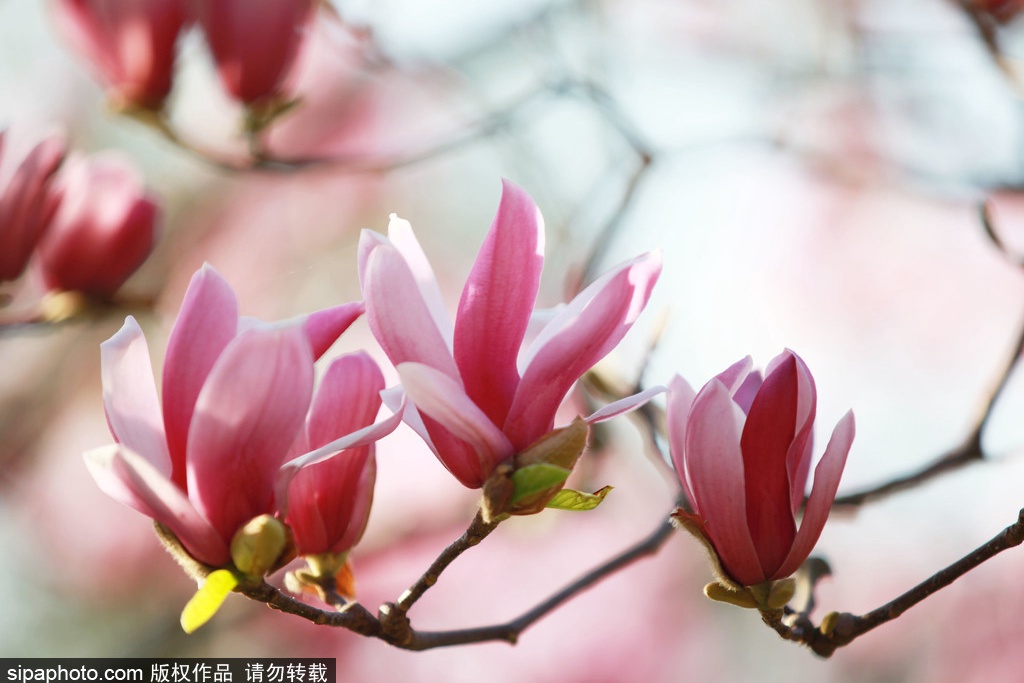 In addition to yulan magnolia, plum blossoms and cherry blossoms of Yuyuantan have also begun to bloom in succession. More than 50 varieties of plum blossoms have been planted in the park.

Different kinds of plum blossoms rush to show their beauty. The whole park looks like a pink ocean.

The elegance of plum blossoms and the dignified and imposing atmosphere of historical city walls are integrated together, which makes the scenery more beautiful.

Although we are not at the spot but face the screen, we seem to smell a fresh and elegant fragrance, which is not strong but enough to make us intoxicated.

Just recently, the cherry blossoms in Yuyuantan are quietly blooming as scheduled with the expectation of spring.

Cherry blossoms are in full bloom, which is enjoyable and makes us happy. Although cherry blossom is beautiful, it's enough to enjoy it online. The phenomenon of congestion in the past years must not exist this year!

In order to strengthen the prevention and control of the epidemic and reduce the risk of gathering, Yuyuantan Park has informed that the cultural activities of cherry blossom viewing in 2020 have been cancelled, but tourists can still enter Yuyuantan by appointment.

Sure. There are cherry blossoms every year. We have countless opportunities to enjoy them.

During the epidemic, it's also very good to watch cherry blossoms online at home. If you insist on going to the scene, please wear a mask and do not gather or go to crowded places!