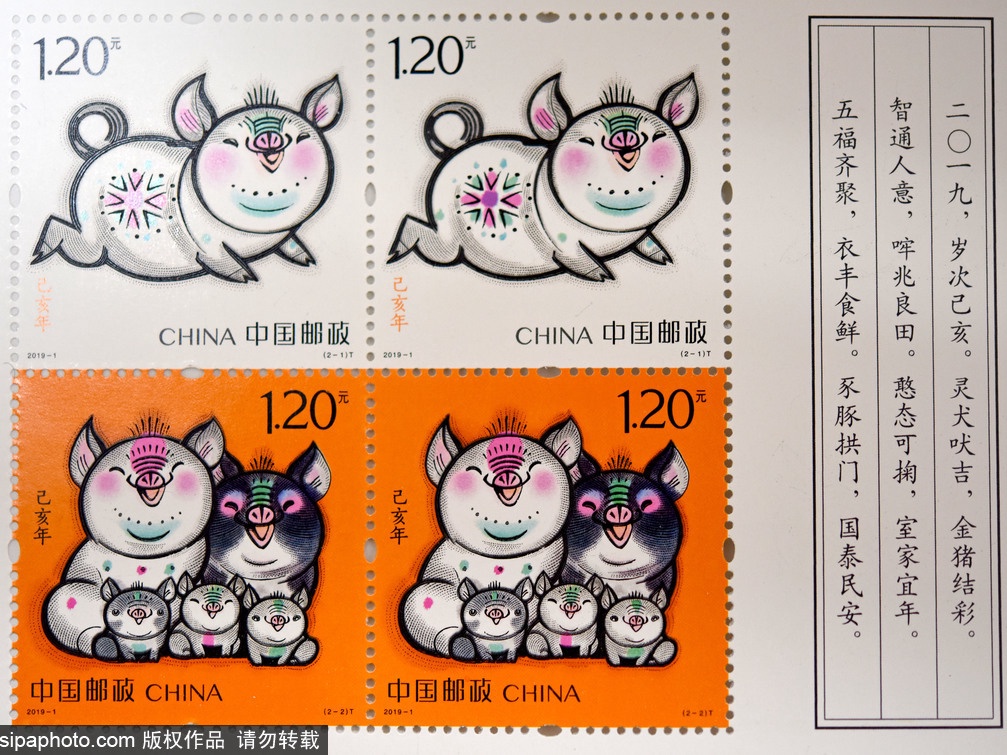 Veteran artist Han Meilin is full of festive cheer after designing a Lunar New Year stamp collection for the third time, Wang Kaihao reports.

At the grand age of 83, Han Meilin, who still has dark hair and a 1-year-old son, continues to prove that, despite his advancing years, he remains full of youthful vigor.

The Year of the Pig is coming, and Han, as one of China's most recognized living artists, is ringing in the Chinese New Year a little bit earlier.

He is presenting no less than 600 new artworks in a show entitled Han Meilin: Chinese Zodiac Art Exhibition, which opened to the public on Sunday at the Hall of Literary Glory in the Palace Museum in Beijing, also known as the Forbidden City.

The Palace Museum was China's imperial palace from 1420 to 1911, and now houses 1.86 million cultural relics.

The opening marked the beginning of the 12th month of the lunar calendar, kicking off the Chinese New Year season.

He announced at a news conference in December that this solo exhibition would have 300-plus exhibits, but, by opening day, the number had doubled.

Han kept working up until the very last moment, with some exhibits signed with the date "Dec 30, 2018".

"In the past 40 years, my art has traveled around the globe," Han says. "Now, it's time to be shown at home. The Palace Museum is the biggest home for traditional Chinese culture. I'd like to share my work with the people and celebrate Spring Festival together with them."

Han has spared no effort to showcase his versatility in the name of spreading auspicious omens in this artistic shrine. The 12 animals from the Chinese zodiac are turned into colorful and highly expressive images in his hands and through diverse forms, including painting, calligraphy, sculpture, porcelain ware and furniture, among other media.

They combine to reflect the circle of life, a main theme not only for this exhibition, but also for nature.

"In spite of my age," Han says. "I don't want to get myself restrained. I always keep an open mind to various art forms."

He even implements three-dimensional printing to portray the abundant world in his mind.

Nevertheless, he still struggles for inspiration sometimes.

"Pigs look plain," Han says. "It's challenging to design abundant appearances for it."

However, once he begins to look for inspiration in Chinese folk art, the colorful grassroots aesthetics open like a water tap.

"My ideas just keep flowing," Han says. "Only when an artist is willing to go down, the artistic level can go up."

Han has stated for a long time that he was, for decades, a humble student of a folk artist from a rural area in Shaanxi province.

The difference is, he introduces techniques of classic calligraphy and water-ink paintings in his folk art world. For instance, he uses a marker pen as a major drawing tool, which, of course, is not a traditional medium for a Chinese painter, meaning that he has cut links with any established format before his time.

"We don't necessarily need to see his signature to recognize his work," Wang Yong, a researcher of Chinese National Academy of Arts, says.

"One of the most distinguishing features of his art is his imagination that typically belongs to a child. He is an honest man who always seeks love and beauty from his daily life."

For the upcoming Year of the Pig, Han has drawn 1,600 scripts. Following his typical style, Han uses exaggeration to omit some details of pig bodies, replacing them with decorative patterns.

"In Chinese traditional culture, the pig represents harvest and prosperity," the artist explains. "There is almost no Chinese folklore in which the pig is a miserable character."

He says his scripts can be widely used on different occasions other than the exhibition.

A batch of new year souvenirs have been developed with his pig prints, ranging from calendars to napkins and even lollipops.

However, the most important pattern Han has created is no doubt the one which is to be used on a new set of Chinese zodiac stamps. Since 1980, China annually releases such stamp collections, and Han is the only artist who has been invited to design them three times, with his designs also included in the collections of 1983 and 2017.

He depicts a chubby pig with a happy face in one stamp to indicate people's pursuit of a prosperous life and future. In the other stamp, he has designed a family portrait-the parents and three piglets-to present family union.

"Meilin adopts personification to paint animals," Chen Lyusheng, a researcher at the National Museum of China, says.

"Even animals like mice and snakes, which usually have an unfavorable impression among people, can be embodiments of beauty in his paintings. Indeed, love has no classification.

"Besides, the paintings show his temperament and spiritual world. One can't help feeling Meilin is never old," Chen says.

Han lived a hard life during the "cultural revolution" (1966-76), but the years of being tortured and imprisoned did not twist his humanity, Wang, the researcher, adds.

"He never complained," Wang says. "Instead, he had grown a more fervent desire for kindness and became more caring for all living beings."

It was that spirit which encouraged Han to begin a tour project, "caravan of art", promoting his new explanation of Chinese folk art as soon as the nation's reform and opening-up began to usher in a new epoch for China.

Han held exhibitions in 21 cities in the United States in 1980, during which he was awarded the key to the city of San Diego as an honorary citizen, while Manhattan in the city of New York, declared October 1, 1980, as Han Meilin Day.

Foreigners are most probably familiar with at least two of his creations: The phoenix-shaped logo of Air China and the five Fuwa mascots for the 2008 Beijing Olympics.

In 2015, he was named the UNESCO "artist for peace" in recognition of his long-term commitment to promoting art and artistic education in China, and his support for providing quality education to young people. In 2018, the International Olympic Committee also bestowed upon him the Coubertin Medal-a distinction awarded to those who exemplify the spirit of sportsmanship in Olympic events or through exceptional service to the Olympic movement.

Han's work can also be found among the collections of overseas institutions, including the British Museum, the State Russian Museum in St. Petersburg, Institut de France and the Massachusetts Institute of Technology, among others.

Still, Han vows he has "a Chinese heart" despite his frequent travel and strong relationships overseas.

"Well, can you see anything exotic in my work?" he asks, smiling. "Everything is still made up of basic Chinese elements.

"I can drink foreign liquors, wear foreign suits or drive foreign cars. But my eyes are always black. Nothing can change that."

Choosing the Chinese zodiac as the topic of his new exhibition is "a humble student's way back and a report to the mother country's culture", Han says.

Feng Jicai, an author and Han's friend, says: "The zodiac is a cultural totem for Chinese people. Everyone was born under an animal of the zodiac, and they will have certain emotional connections with that animal throughout their lives.

"It also reflects our ancestors' worship of nature in ancient times," Feng continues. "When looking at Han's work, every one of us can see a story concerning ourselves."

Ten artworks in the ongoing display will become part of the Palace Museum's permanent collection, Shan Jixiang, museum director, says.

"For artifacts from modern times," the director adds, "we only collect the most representative works of top masters."